FLASH FORWARD JAM - VIRTUAL PET ROCK SEQUEL
I released my little flash forward jam game, it's a sequel, I think, to a little game I made 11 years ago. I made a thread for sharing creations since I made a bunch of these while testing the game and some of them made me giggle because I'm that silly. I've genuinely had fun, and I am very very glad I got motivated by Newgrounds to make something.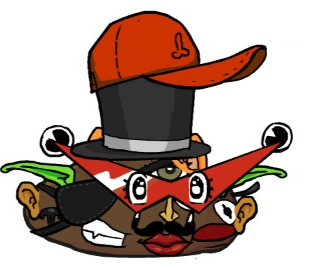 this is me testing out a bunch of the assets for VPRDX2K, one of many possible beautiful results
PLAY IT NOW!!111l1l1l1l11l1l1
I just wanna say that I am very happy to see flash running properly on mobile, because I've been slowly realizing most people basically don't use their desktops for small pieces of entretainement or art anymore, and these snippets of greatness are what Newgrounds is made of, and I pratically don't share anything interactive or even animated anymore with IRL friends, because it seems people just turn away from a link that doesn't direct you to any app that isn't your browser. man, fuck people they're missing out on all these awesome AS2 tutorials from 15 years ago(not kidding).
QUICK RANDOM MUSIC AND CREATIVITY RANT I GUESS
I've been experimenting a lot with music, and I usually have loads of fun with it, but I've set some goals like, having 5 or so songs with production wrapped up(whatever that means) by the middle of the year and stuff like that. The thing is, I have no idea wtf I am doing, I am literally following along with a mixing for dummies thing and trying to mix my own stuff. So I get pretty lost in the process and redo things inumerous times before getting it "right". Learning how to handle mics, arranjements with multiple guitars/voices by myself. I keep alternating between focusing on the learning, and focusing on getting what feels like a complete song someone could listen to, and between recording and mixing stuff for hours several days in a row, and keeping away from any work files for my music for weeks in order to avoid my dumb brain melting. I may have a scheduling problem or something like that.
It's good to have goals, but when your doing something just for you and for the sake of it, I think these goals should hold little to no importance, you do it because you wanna do it, fuck it.
well once again thanks Newgrounds for being the bestest webspace ever. Flash lives on fuck stev jobs
mandatory link to random music stuff and bye: